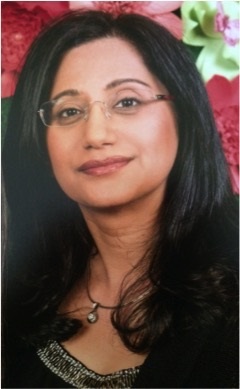 If you have been invited to one of the network's Steering Committee meetings, you probably have had the pleasure of meeting this wonderful, energetic woman. Yes, we are talking about one of our Steering Committee members, Dr. Sophia Siddiqui.
A week ago, we made a request to Dr. Sophia to submit her profile. Seeing that she is a very busy woman with limited free time, we were not sure that we would get positive feedback from her. Imagine how excited we were when we received confirmation from her the following day!
Dr. Sophia Siddiqui was born and raised in Lahore, Pakistan. She graduated from the Allama Iqbal Medical College, University of the Punjab, Lahore in 1995. After completing her residency in Internal Medicine at the Illinois Masonic Medical Center in Chicago, Illinois, she was appointed and served as a Chief Resident before moving to Maryland to pursue a fellowship in Infectious Diseases at the National Institute of Allergy and Infectious Diseases (NIAID), National Institutes of Health (NIH), Bethesda in 2002.
During her fellowship she worked in the Laboratory of Immunoregulation, NIAID under Dr. Clifford Lane and was involved with research in HIV and Tuberculosis co-infection. It was during this time that she began working in Mali, West Africa. The project was focused on research related to the immunology of HIV and Tuberculosis co-infection and developing research capacity in the context of clinical research.
During her fellowship she also completed her Masters in Public Health with a certification in International Health Policy and Finance from the Johns Hopkins University.
After completing her fellowship, she joined the Collaborative Clinical Research Branch (CCRB) in the Division of Clinical Research (DCR) in 2007 as a Medical Officer. The branch was engaged in multiple international collaborative projects including Mali, and this allowed her to continue her affiliation with the project. Initially a Principal Investigator she eventually served as the DCR, Team Lead for the project until 2013.
In 2011 she became involved with the INA-RESPOND network and has been an active member of the Steering Committee of the network.
Dr. Siddiqui has a strong interest in international research. She feels that her work is a cross section of research and health diplomacy. The most rewarding aspect is finding ways of integrating sustainable capacity building while facilitating research that meets the needs and priorities of all partners.
She finds her work with INA-RESPOND very meaningful. The progress made in a short 5 years has been very impressive.  Particularly inspiring is the dedication and commitment of the Indonesian researchers, steering committee members, and the secretariat staff.
Leave a reply →