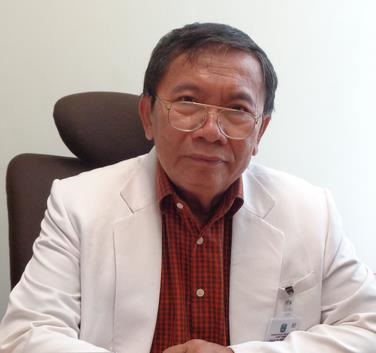 SURABAYA – Professor Suharto, born in Madiun on 2 August 1947, is one of the network SC members and a passionate Internist in infectious disease. He is currently managing the Infectious Disease Hospital (Rumah Sakit Khusus Infeksi) Airlangga University, Surabaya as the Vice Director of Health Care Management.
He started his career after he graduated from Faculty of Medicine, Airlangga University, Surabaya as a General Practicioner in 1973 and earned his Internal Medicine Specialist title in
1979. He received his Diploma in Tropical Medicine and Hygine (DTM&H) and his Master of Science in Clinical Tropical Medicine (MCTM) from Bangkok School of Tropical Medicine, Mahidol University, Thailand. In 1999 he obtained his Doctor of Philosophy (PhD) from Faculty of Medicine, Airlangga University, and in 2008 he received his Master of Medical Education (MPdk) from Faculty of Medicine, Universitas Indonesia.
Suffice to say, Professor Suharto is a man of great potential and many experiences. He has held several strategic positions such as the Vice Dean of Faculty of Medicine, Airlangga University (2002-2007) and the Chairman of Medical Education, Research, Staff  Development Unit (MERSDU), Faculty of  Medicine, Airlangga University (2008-2013). Professor  Suharto has dedicated more than 40 years of his life to tropical and infectious diseases research.
In our INA-RESPOND network, Professor Suharto is one of the SC members. When we asked him what his thoughts and advice for INA-RESPOND future developments, he says that INA-RESPOND has a great impact for clinical research, especially tropical infectious diseases research. There are some big gaps between the management of local clinical research and the ideal concept. International network provides us role model to implement an ideal management system on our clinical research projects, and INA-RESPOND has been proven to give this opportunity. In Surabaya, more and more foreign researchers are in touch with us, which of course helps create new international networks and strengthen the existing ones. So, it is crucial to have and maintain our good clinical practice research culture.
Seeing our condition using the S.W.O.T analysis, Our greatest strength besides the systematic and scalable project management support provided by the network is our human resource. However, we are sometimes still constrained by our unit bureaucracy. For example, the funding for the studies is often delayed so operational performance becomes low. Surely, advocacy in each institution has still to be addressed.
With the global health conditions that tends to pay more attention to infectious diseases, high-burden and high-prevalence infectious diseases such as Sepsis and Dengue Hemorrhagic Fever should take precedence. Moreover, exotic and neglected infectious diseases should also receive serious attention. Malaria and zoonotic diseases will provide great opportunity for future studies.
Last but not least, we definitely should take into account external factors and variables that could affect INA-RESPOND future development such as the MTA (Material Transfer Agreements). We need to realize that these factors pose threats, yet they could benefit us even more were we able to identify and understand them better.
Leave a reply →