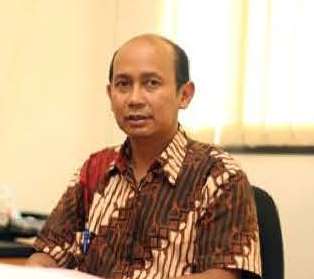 Dr. Bachti Alisjahbana is one of the staff members and active lecturers of Internal Medicine Department in Hasan Sadikin hospital, Bandung. Born on 6 December 1963, Dr. Bachti went to Taruna Bakti School where he actively participated in many outdoor activities such as hiking, camping, and orienteering. Moreover, his father, late Prof. Iskandar Alisjahbana from ITB, introduced him to water sports like sailing and canoeing, which became his hobbies and favorite activities to fill his weekend. Besides his obvious passion for outdoor activities, passion for art also ran in the family. While his grandfather was a famous author, dr. Bachti himself was more interested in performing arts especially theater and singing/choir.
Right after high school, dr. Bachti continued his study at the Faculty of Medicine, Universitas Indonesia, Jakarta (1982 – 1989). While he was in the medical school, his fondness of outdoor activities never left him. He often went camping with his medical student fellows and spent time on the water: sailing, canoeing, or kayaking. Once in 1987, he took a 6-month leave from his medical school and joined an outdoor expedition, Operation Raleight, where he worked as a medical researcher in Seram Islands, the Mollucas. This experience brought his longing to contribute more to isolated population in eastern Indonesia. So, one year after his graduation, he chose to conduct his medical field duty in the Central Highlands of Papua (1990 – 1993) taking his wife and first daughter along with him. He dedicated his time there to help Papuan highlands tribes, the Danis and the Yalis, with their vaccination and health. He enjoyed the independency of being the only doctor in the field, challenged to make clinical decision with the limited resources available there. This experience motivated him to take Internal Medicine as his specialization and became a staff member of the department in 1999, focusing on infectious disease. He started to actively contribute to a TB research project with Dutch collaborator while obtaining his PhD degree in the University Medical Center Nijmegen (2000-2007). At the very same time, he also started collaborating with Naval Medical Research Unit II, in the study of Dengue. These two studies continue to provide opportunity for many follow-up studies that bring opportunities to many subsequent PhD students. Subsequently, he continues leading many young investigators in projects related to TB, HIV, Dengue and general infectious disease in Medical Faculty UNPAD. Practical research in TB has provided him with the opportunity to be the chairperson of the TB Operational Research Group, which promotes implementation of research for improvement of TB Program.
For Dr. Bachti, INA-RESPOND is a great network through which infectious disease research can be facilitated and advanced at a faster pace like never before. With so many inhibitions, it seemed difficult to establish such a network, at first. He sees that the main difficulties still lie in Human Resources. We can develop research projects quickly, but developing Human Resource always takes more time. However, seeing that the first study that has partially been completed, he expects many opportunities in the future to further facilitate each network member to become more active in research.
Keeping this in mind, there are three basic roles that INA-RESPOND should do in order for it to be more successful than were any other research organizations in the past. They are 1) to lead and manage the conduct of high-quality multicenter research 2) to train institutions (and their involved personnel) to be able to conduct high quality research and 3) to build and establish a good clinical research practice in academic institutions. All three roles require different approaches. The first one INA-RESPOND should become a managing organization, the second one should be a good teacher or tutor, and the third, it should also be an advocator. This would be a big task, but very important one in Indonesia. Where educational culture have been established, but research culture are lagged behind.
As a steering committee member, he thinks that these are the challenges the network is facing. There has never been an organization like this in Medical Research that can successfully bringing up research quality to academic institution. Handling project and conducting research is one thing many institution can do. But teaching researchers to be able to produce the expected result is a culture we need to learn. Moreover advocating research as priority while other "routine" jobs demand the time of our staff is always a difficult task. These are the challenge we must face. We cannot just be satisfied with the research that is currently being conducted. We are also responsible in making this activity a culture that can be accepted widely in our Indonesian Medical Institutions. He hope that INA-RESPOND will be up to the tasks, and this will depend on its steering committee member.
Leave a reply →