As of May 4, 2023, out of the 4,336 subjects enrolled, 1% (20 participants) are still ongoing in the study, and 99% (4,316 participants) have completed their study. The only site with active participants remaining is site 520, which will conduct their final follow-up visit in May 2023.
Regarding the end-of-study subjects, a total of 3,485 subjects have already completed the study until the 36th follow-up month. There are 506 subjects lost to follow-up, 248 who have passed away, 32 who have withdrawn their consents, 38 who have moved to a city without a PROACTIVE Site, 5 who tested negative for HIV, and 2 who are currently suspended (imprisoned). Figure 1 illustrates the study progress at each site, while Table 1 provides a list of completed study participants.
After the completion of the follow-up period, the Sites will make preparations for the last monitoring visit and site closeout visit. All last monitoring visits will be concluded by May 2023. In June 2023, several sites are scheduled for the closeout visits, including site 510, 590, 600, 640, and 650. Other sites will have their visits scheduled in the subsequent months. In anticipation of these visits, sites are required to fulfill all study-related aspects mentioned in the closeout visit checklist. These include completing the Case Report Form/Source Documents, providing all Adverse Event/Serious Adverse Event/Unanticipated Problem reports, managing data, organizing the Site Regulatory Binder, maintaining logs, equipment, supplies, and handling specimens.
For sites that have undergone the closeout visit, the archiving of study documents will be carried out within one month after the visit. These documents will be retained for a period of five years following the completion of the study.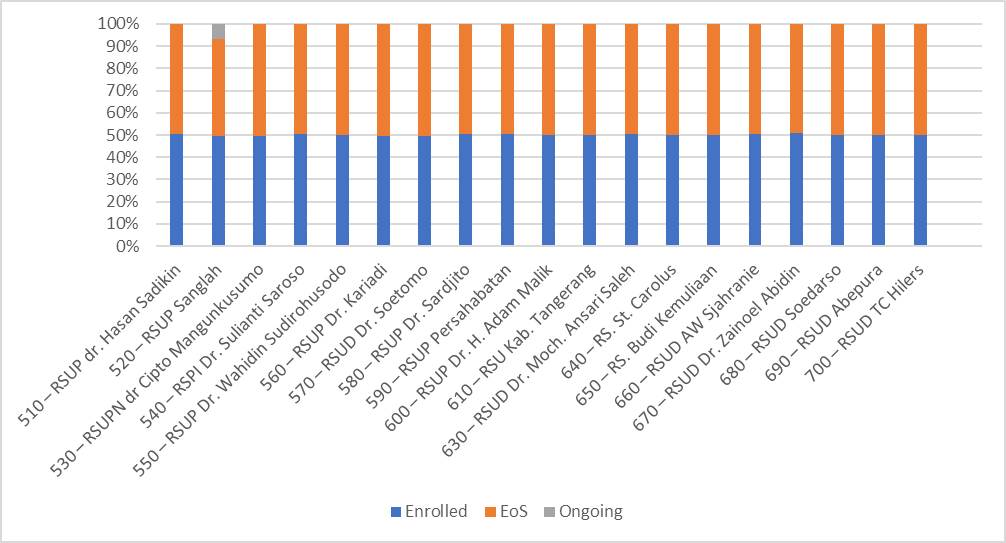 Figure 1. Site's Study Progress
Table 1. Subjects' End of Study Reasons