By: Adhella Menur and Retna Mustika Indah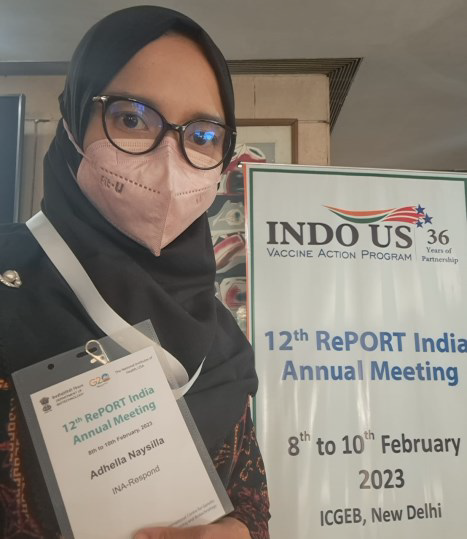 On February 5-10, 2023, Adhella Menur, a member of the INA-RESPOND Scientific Team, participated in a two-and-a-half-day grantsmanship workshop and the 12th RePORT India annual meeting in India. The workshop was hosted by CRDF Global in collaboration with the Division of AIDS, NIAID, NIH, to train young investigators in developing successful grant proposals. To participate in the workshop, interested young investigators should fulfill eligibility criteria such as having completed a graduate degree in the last eight years, being affiliated with a current RePORT Inter-national network research project, and submitting the required documents (application form, personal statement, proposed research concept, and letter of support). The proposed research concept should include a brief background, rationale, hypothesis, objective, and aims. The concept title from Indonesia was "Applicability of selected host blood transcriptional signatures to assist clinicians in deciding empiric treatment for clinically diagnosed tuberculosis (TB) patients." Twenty-three participants from RePORT International member countries (13 from India, four from the Philippines, three from South Africa, two from Brazil, and one from Indonesia) attended with different and interesting TB concept proposals. Understanding the creation process of a grant proposal and the review criteria is essential. In this workshop, Bradley S. Schneider, Ph.D. (UTMB, Texas) and Luke Daniels, Ph.D. (The College of Idaho) trained the participants on NIH grant application preparation and strategies for producing well-written research proposals.
Sequentially after the grantsmanship workshop, Regional Prospective Observational Research in Tuberculosis (RePORT) India invited the participants to the 12th RePORT India annual meeting. The RePORT India network is well-established and multi-partnered with various institutions from other countries. The network successfully performed the RePORT International Common Protocol research (Cohort A: 3,040 active TB patients and Cohort B: 3,766 household contacts (HHCs)) in Phase I (2013-2018). Their achievements include 106 scientific publications and 64 sub-projects utilizing the collected and stored samples for biomarkers and vaccine trials. They are currently running Phase II trials with specific aims to study TB di-agnostics, markers of treatment response, lung injury & impairment, resistance to infection, and progression to disease. The three most exciting projects are: combining rapid next-generation sequencing (NGS) and anti-TB drugs monitoring for personalizing TB treatment, identifying "Resisters" (HHCs who were not progressing to latent or active TB) for biomarker and vaccine development, and a modified BCG vaccine (VPM1002BC) trial that can be used for a healthy person as a primary vaccine, for HHCs to prevent developing active TB, for an adjuvant during anti-TB treatment, or for the post-TB patient to prevent recurrence. The workshop and the RePORT India annual meeting were beneficial experiences for the junior investigator participants across the RePORT consortia. From those experiences, participants gained the skills to develop competitive research proposals, familiarized themselves with applying for international grant funding, discussed and developed collaboration with other investigators, and gained insight and inspiration from the RePORT India presentations. For INA-RESPOND, hopefully, we can explore our archived TB specimens to have a greater impact on TB control in Indonesia and globally.
Leave a reply